People experience difficulty when selecting gifts. They spend hours choosing one, but they are still unsure of whether the receiver would enjoy it. At this point, digital gift cards offer assistance to online consumers.
A Digital Gift Card
A digital card that may be used to buy anything from your shop. The brand assigns a gift code to digital gift cards, also known as e-gift cards or electronic gift cards, and they are given by email.
When a customer is unsure what they want, these cards might be quite helpful. Many brands offer digital gift cards in different denominations. The validity and usability of the card are subject to the terms and limitations set by the sellers.
How Do E-Gift Cards Function?
When the gift card is delivered to the recipient's email address, they may use the gift code to redeem it on the brand's website or add the value to their store wallet. Once applied, a discount is applied to the product amount that is below the gift card limit. You may send e-gift cards to anyone, anywhere in the globe.
The Best Way to Give a Digital Gift Card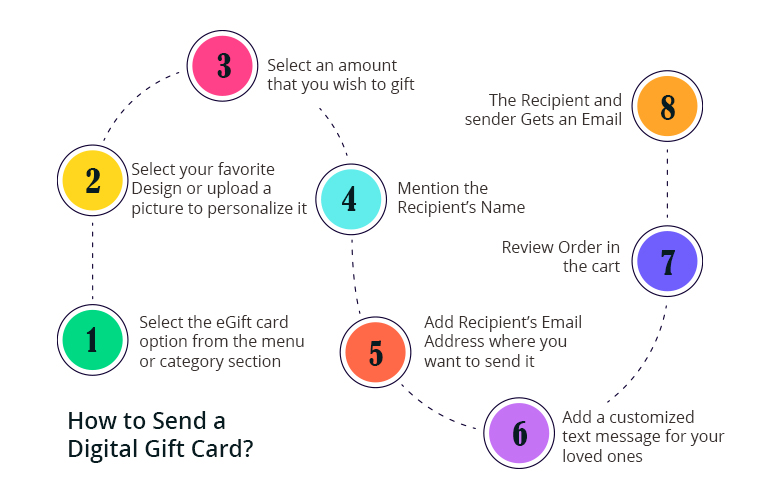 To give a digital gift card, you must adhere to a few straightforward steps:
1. From the menu or category area, choose "eGift card."
2. To make it more unique, select your favorite design or submit a photo.
3. Determine the amount you want to donate.
4. Include the Name of the Recipient
5. Enter the recipient's email address in the appropriate field.
6. Include a personalized SMS message for your family members.
7. Examine the cart's contents.
8. The Sender and Recipient Access Email
When offering digital gift card features in their store, eCommerce companies generally employ this format.
What Makes Millennials Prefer to Send Gift Cards?
The key factor influencing gift cards' appeal is their adaptability. In other words, people who receive gift cards have unlimited purchasing power at their preferred retailers.
As a car buyer, you are relieved of the pressure of selecting the ideal presents for your family and friends, particularly if you are unsure of what they would want. For the following reasons, the majority of people are happy to receive gift cards:
1. It enables people to buy their favorite present at little to no additional cost.
2. Gift card buyers won't have to stress about gifting recipients something they already own.
3. The recipients can use the gift cards whenever they choose. Gift cards can be used to make purchases in person or online.
4. The recipient can buy more goods or more expensive items when using gift cards during sales.
Benefits for Businesses of Digital Gift Cards

Gift cards are popular among customers since they are affordable and, most significantly, time-saving. Digital gift cards have several advantages for brands as well as for customers.
Boost Your Sales and Income

eCommerce gift cards' main advantage is that they increase your sales. Gift Cards are the most often requested gift during the Christmas season, according to Creditcards.com.
People choose the Gift card option when they are under a lot of pressure to find the ideal present for their loved ones. We can conclude that last-minute customers benefit greatly from gift cards.
Gift cards might also increase your revenue. When using the gift card, the owner will probably spend more than the value of the card. E-Gift Cards are frequently utilized as a discount to purchase goods that have a somewhat higher value so that the customer does not have to pay a hefty price for the good.
Increase Brand Recognition

Increased Brand Awareness is a benefit of digital gift cards as well. Likely, the recipient of the gift card has never heard of your company.
With a gift card, they may test out your goods and gain more understanding about your company. If the recipient like your products, there is a chance that he or she would purchase a comparable gift card for a friend or family member, increasing company recognition.
Your brand is promoted by the gift card's inclusion of your logo. Digital gift cards may also be mailed from anywhere in the globe to anyplace else, unlike conventional gift cards, giving your company a global reach.
Digital Gift Cards are Practical and Safe
Gift cards are far safer and more practical than traditional paper or physical gift cards, which can be stolen or lost. There is no chance of such events happening. A digital gift card can be easily sent or received, and the value is always secure.
A gift card recipient can shop for their preferred item in a nearby store or online at an eCommerce site. Extraordinary festivities are required for special events. It's inescapable to buy gifts for family and friends during holidays like Christmas. It is therefore recommended to purchase a gift card based on the preferences of the recipient.
Allocating a certain sum to each gift card won't take much time or effort, and you'll be able to assess the value of your present.
Increase Customer Loyalty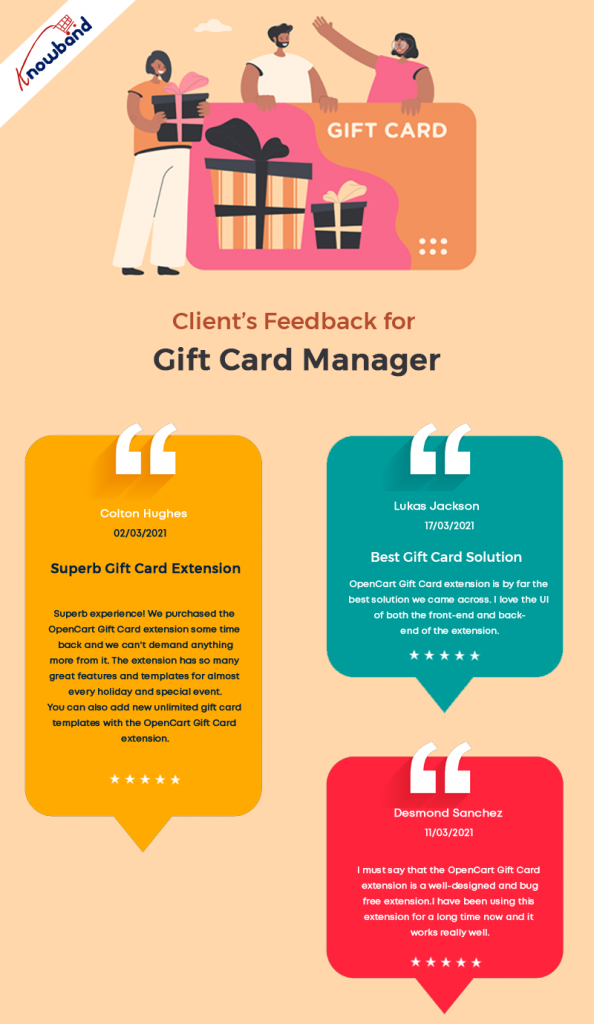 Gift cards have additional advantages in that they promote client loyalty. Earning clients' loyalty is crucial if you want them to continue with your business over time. And you can only keep them content and happy if you can gain their allegiance.
A gift card can make things easier and help you keep clients if they had a negative experience with your products or wanted to file a return or refund. This will increase your customer retention.
When should I offer digital gift cards?
Giving and receiving gifts establish a bond between the parties involved. It's an expression of love. To overwhelm your loved ones, you don't need a special event. The virtual gift card appears in this image.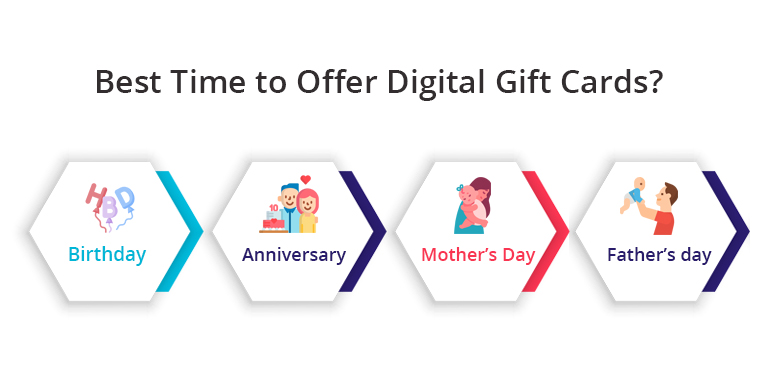 Give them a gift card if you are struggling to find the perfect present for them. You can think about giving them a gift for their birthday, anniversary, mother's day, father's day, or any other special day. Another fantastic time to show someone you care is during the holidays!
Knowband's Gift Card Manager
One of the top e-commerce solution providers, KnowBand, provides the Gift Card Manager module to retailers who have their store configured on the PrestaShop, OpenCart, or Magento 2 platform.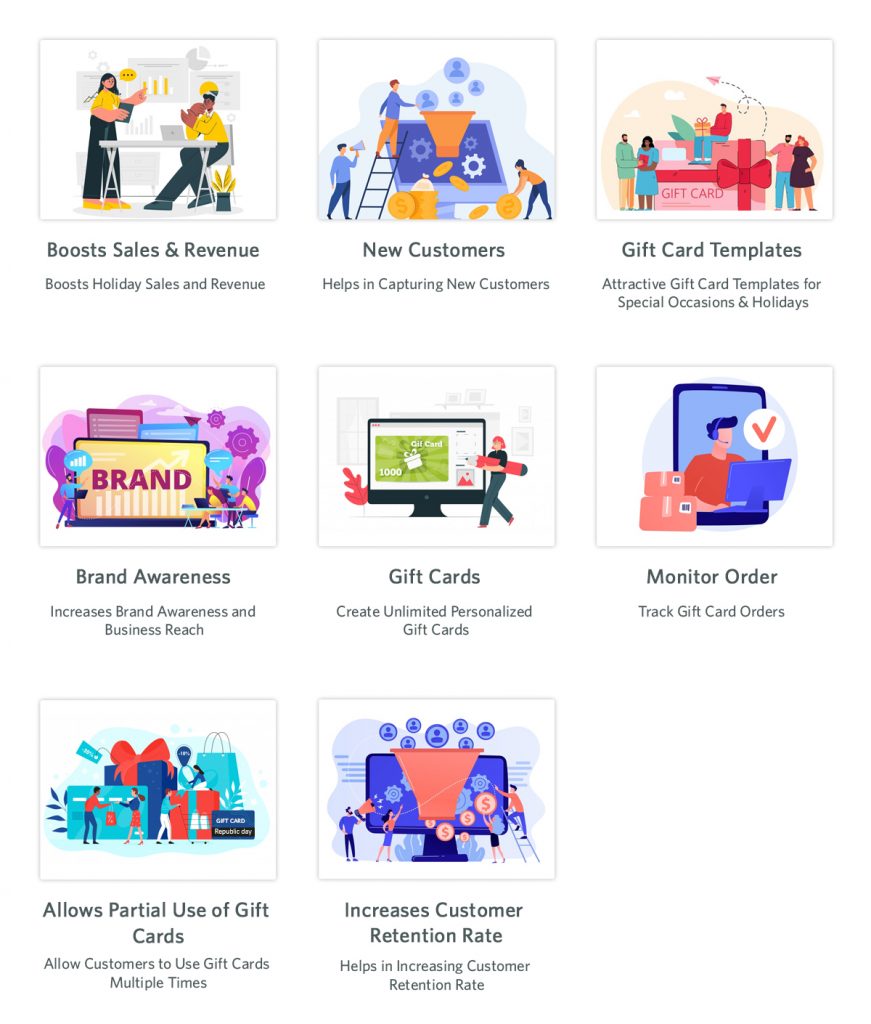 The module adds a gift card area to your website and provides pre-existing, editable gift card layouts for several holidays and occasions, including Mother's Day, Halloween, Christmas, and New Year's. Additionally, it enables you to upload new gift card templates for any chosen occasion, ensuring that you never miss a significant occasion.
Our Gift Card module allows you to generate gift cards with various denominations, allowing a consumer to select a gift card that fits his or her budget.
The gift card can be configured for several currencies, allowing users to send one to a loved one who lives abroad so they can shop in their currency. The Gift Card Manager module is available right now.
Last Word
The availability of the gift card option for online customers can scale up your sales when taking into account the expansion of digital gift cards in the eCommerce sector.
I hope the advantages of the gift cards I described above have convinced you to include a Gift Card section on your website. Having difficulties setting up the section for gift cards? Consider using our Gift Card Manager. Contact us at [email protected] if you require any help with the module.