Anyone can learn how to sell on eBay. You may register as an eBay seller, list your goods, and start selling on eBay in a single day. One of the reasons eBay has about 25 million merchants globally is the ease of selling on the platform.
It is remarkably easier to start selling on eBay's marketplace. eBay blends the breadth and diversity of Amazon with the ease of use and upkeep of Etsy. Additionally, eBay makes it free to start a retail shop, making it perfect for complete beginners just getting started with online sales. eBay is the best option if you want to launch an internet business and generate sales quickly and easily.
However, there are several challenges involved in eBay product sales. Only over 183 million people use eBay globally despite its over 1 billion postings. Due to the intense competition, eBay merchants constantly test out new strategies to entice people to click on their ads. Being aware of the best products to sell when could put you ahead of the competition.
You must first conduct in-depth market research, find out more about your competitors, and gain a solid understanding of the top-selling items on eBay if you want to be a successful eBay seller in 2023. Understanding this enables you to make informed decisions about how you will set yourself apart from the competition and meet your sales goals for this year.
We'll talk about the top eBay products in this post, along with tips on how to spot hot commodities. Additionally, additional crucial recommendations will help you develop on eBay.
Choosing what to sell on eBay: Things to think about

There are a number of factors to take into account when choosing what to sell on eBay, including:
Costing
Costing needs to be calculated and wise. Prior to acquiring more goods, it is preferable to agree on a price. Compare the number of sales, product prices, and comparable listings. The price range that best suits you can then be selected. Focusing on goods priced between $150 and $300 is another possibility. In most cases, this price range is high enough to offer a healthy profit margin while still being affordable enough to persuade the majority of customers to buy.
Weight
Early consideration should be given to the weight of your products because it has an impact on almost every aspect of your commercial store, from delivery costs to the overall profit you make at the end of the day. The bigger the goods, the more you pay for delivery and lose out on returns.
Minimalism
Simple and convenient products will sell more quickly. With more complex products, you run the risk of having to deal with angry customers and frequent returns, which might quickly drive you out of business.
Competence
Both new and seasoned eBay sellers are recommended to become authorities on their products or category. Instead of just being a vendor, you establish yourself as an expert in your subject and excel at giving clients extra value. If you are not a specialist already, you should try to learn as much as you can before listing.
The Top 5 Ebay Items Expected to Sell in 2023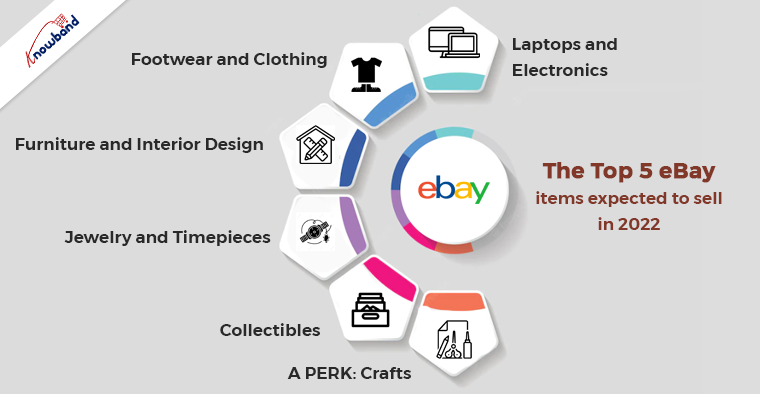 Laptops and Electronics
Despite the effects of the coronavirus outbreak, consumers' propensity to buy these products is growing.
One of the most sought-after categories on eBay is items for tablets and desktop computers. The most popular products are speakers, headphones, and smart home technologies including TVs, microwaves, lighting, and speakers. Other top sellers include laptops, desktop computers, tablets, and networking equipment, as well as tablet and eBook reader accessories.
Headphones and smart speakers are the two most popular products. Additionally, your customers choose to buy branded technology from businesses like JBL, Sony, Apple, and Samsung.
Footwear and Clothing
For any eBay seller, the apparel and footwear sector is tempting. All garment merchants will be able to market, sell, and fill orders more effectively on a global scale by lowering entry barriers online.
Men's T-shirts, Men's Hats, and Jeans are the top-selling items in the Clothing category on eBay. Additionally, consumers like products with well-known brands like Adidas, Nike, or Rothco.
Furniture and Interior Design
The most popular items on eBay in the Home and Garden category are furniture and home decor. The market for home furnishings is growing quickly on a global scale, according to the Home Decor Market Report 2020. The need for these things is growing and becoming more significant as a result of the real estate industry's rapid expansion, the dissemination of décor trends, and other factors.
Home furnishings, Afghans & Throw Blankets, and Bookends are the three most sought-after goods in the Furniture and Home Decor category.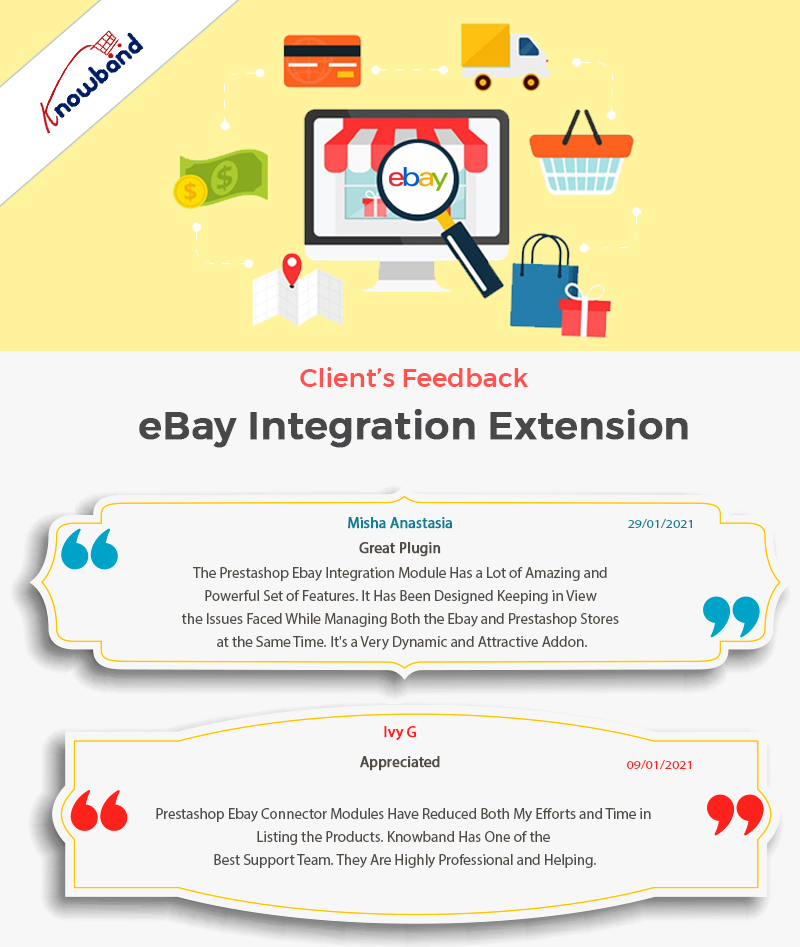 Jewelry and Timepieces
The global online jewelry market was estimated to be worth 21.5 billion US dollars in 2020 and was projected to grow to 60 billion US dollars by 2027, according to Statista. In 2019, the global jewelry market was estimated to be worth over 230 billion dollars. What a remarkable number! Jewelry and timepieces are small and simple to send compared to other electronic freight restrictions. They make excellent products to sell on eBay, one of the biggest online marketplaces.
The winning products in the Jewelry & Watches category are Wristwatches, Fashion Necklaces & Pendants, and Wristwatch Bands.
Collectibles
TV & Movie Character Toys are the top-selling products on eBay in the Collectibles category.
Cartoons from TV shows and movie properties, according to a study on toy and gaming trends for 2020. For example, Star Wars, Marvel, DC, and other properties increased demand for niche toys and games.
A Perk: Crafts
During the COVID-19 Pandemic, people have more free time to hunt for Do It Yourself (DIY) crafts. The handicraft category is currently one of eBay's best-selling products due to increasing customer interaction. You can search through 851,580 handcrafted items categorized into different categories on Etsy.
The categories for eBay crafts with the most sales are: Jewelry and beadwork.
Now that you are aware of all the items you should anticipate selling on eBay, let's concentrate on the selling process.
Where Do I Begin Selling on eBay?
I'll go right to it by introducing the Knowband eBay Marketplace Integration Extension. Additionally, the merchants can easily combine their eCommerce store with eBay via the eBay Marketplace Integration. For eBay integration, Knowband provides the following modules:
eBay Prestashop Integration Extension
eBay API Integration Module for Magento 2
Purchase and set up the eBay Connector
The shop administrator must receive the API keys in order to configure the eBay Integration Module (all of the processes to obtain the API key are detailed in the user manual). Additionally, once completed, managing the eBay store listing, inventory, and orders directly from the eCommerce store is simple.
The eBay Marketplace Integration Plugin's features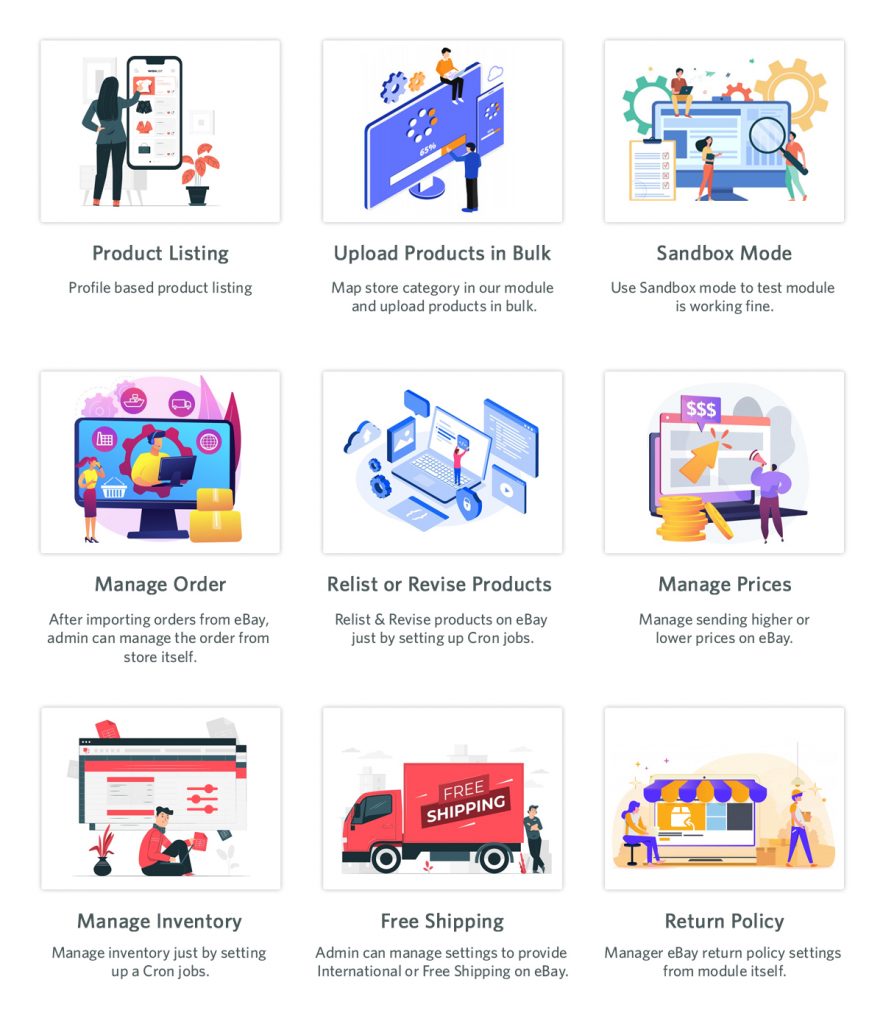 With just a few quick keystrokes, store administrators may easily connect their shop to eBay Marketplace using the shop connector module.
Shop administrators save time using the eBay API integrator since the setup process is easy and quick.
The dashboard for the eBay API integrator allows the administrator to create multiple profiles.
The profile-based item posting feature of the eBay API integration module aids business owners in saving time and resources spent on the manual listing.
Owners of businesses may easily track and manage their inventory with the help of these accounts created in the backend of the eBay API Integration.
Store owners can simply connect item attributes and classes to eBay Marketplace attributes and classifications by using the eBay Connector.
With the eBay plugin, owners may easily add, delete, modify, or relist products on eBay.
Order administration is made simple with the eBay Connector.
Orders made through the eBay store may be easily connected to their company.
From the shop's backend, store owners may easily manage synchronized eBay purchases.
The eBay Connector module's backend allows you to keep an eye on the issue that cropped up when listing the items.
After All,
People use the internet to purchase from home every day for everything from games to handcrafted items. Therefore, now is a great time for online sellers. Do your research and choose the best items because there are many different products available on eBay. Start with the most well-liked items, then look at other factors like pricing, volume, and profitability to find the products that will actually bring in money.
Use the eBay Connector by Knowband to connect your store to the platform if you want to sell on the eBay marketplace. If you have any questions, please email us at [email protected].