Are you seeking a strong, user-friendly, and reasonably priced eCommerce platform? OpenCart is the only option! An open-source shopping cart system for small-to-medium-sized businesses is called OpenCart. Anyone who wants to build a quality eCommerce website without paying a fortune should use it. In this blog post, we'll go over the major advantages of using OpenCart for your eCommerce requirements.
Because of its simple setup procedure and user-friendly interface, OpenCart has become a top choice for eCommerce. It is the best option for organizations that lack the resources or knowledge to run complex eCommerce solutions because it is simple to install, configure, and manage. Additionally, OpenCart has a wide range of options that let you tailor your eCommerce store to your own requirements. You can interact with just about any third-party service provider with ease thanks to its extensive selection of payment gateways and shipping choices.
The price of OpenCart is a crucial advantage. Since it is significantly less expensive than many other eCommerce platforms, you can concentrate your expenditure on marketing and promotion rather than on the price of hardware or software. Additionally, business owners may easily acquire the assistance they require when setting up or debugging their eCommerce shop thanks to OpenCart's free support.
Finally, OpenCart offers a variety of themes and plugins that let business owners alter the appearance and feel of their eCommerce store while keeping a professional design. With so much freedom, OpenCart enables business owners to build a polished eCommerce website without spending extra money on pricey customizations.
Why is the eCommerce Sector Booming with OpenCart?
One of the most rapidly expanding eCommerce platforms available today is OpenCart. A wide number of capabilities are available in this open-source eCommerce system, which makes it simple and economical to set up and maintain an eCommerce website. Managing products, orders, customers, promotions, taxes, and other things is easier with OpenCart. Additionally, OpenCart enables even novice users to swiftly launch their eCommerce stores thanks to its user-friendly interface. The eCommerce site can also be customized using the increasing library of extensions, themes, and modules that OpenCart offers.
OpenCart eCommerce Platform's Importance
The OpenCart eCommerce platform is a terrific tool for rapidly and easily building an eCommerce website. It offers many tools and features that make it simple to adjust the eCommerce site to your needs. OpenCart effectively maintains items, customers, orders, categories, and other associated information thanks to its user-friendly interface. Additionally, OpenCart has an extensive selection of eCommerce themes and extensions that make it simple to build a completely effective eCommerce site.
Affordable eCommerce Platform
An extremely affordable eCommerce platform is OpenCart. OpenCart does not require a license fee or a monthly subscription price, in contrast to other eCommerce platforms (unless you choose premium plugins). You also get access to a tonne of free materials that can assist you in setting up your eCommerce website because the forum is open source. Because of this, OpenCart is a great option for small businesses and startups who want to keep the costs of developing their online stores to a minimum.
Easy Setup & Maintenance
OpenCart's installation procedure is simple. You may launch your eCommerce website without any technological knowledge. You may also learn how to modify the eCommerce site to suit your needs using the platform's simple to follow tutorials. Additionally, OpenCart features a built-in system for managing updates and patches, making it simple to maintain and update.
Safe Online Shopping Platform

Because OpenCart was created with security in mind, it is a reliable option for eCommerce websites. The platform has features that guarantee your customers' information is always safe and secure, like two-factor authentication, SSL encryption, secure payment gateways, and more. Your eCommerce website can also be enhanced with additional security features thanks to OpenCart, providing you complete piece of mind.
Given these advantages, selecting OpenCart for the development of an e-commerce website is wise. It offers a user-friendly platform with lots of features that make it simple to build an expert eCommerce website. OpenCart is also affordable, safe, and simple to manage, making it the perfect solution for startups and small enterprises. Look no further than OpenCart if you're looking for the ideal eCommerce solution!
Pros and Cons Before Choosing OpenCart
It's crucial to keep in mind that each eCommerce platform has advantages and disadvantages. Therefore, before choosing the eCommerce platform to employ for your website, it is crucial to investigate and evaluate the characteristics of OpenCart. Although OpenCart is a great eCommerce platform, you should be aware of any potential cons. Once your study is complete, you may confidently select OpenCart as your website's eCommerce solution.
Advantages of the OpenCart eCommerce Platform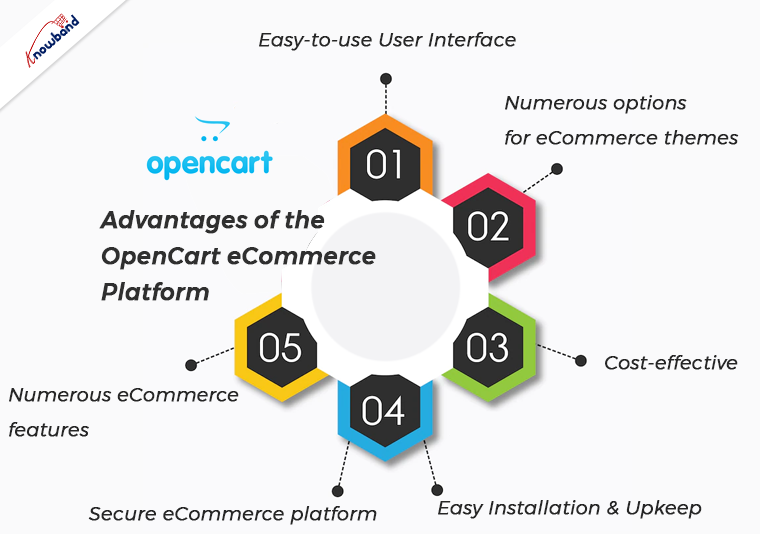 Easy-to-use User Interface:
OpenCart's user interface is intuitive, making it simple to manage products, customers, orders, categories, and other associated data.
Numerous options for eCommerce themes:
OpenCart provides a large number of options for eCommerce themes that make it simple to tailor the eCommerce site to your needs.
Cost-effective:
Because OpenCart is open source, using the platform doesn't need paying a license fee or a monthly subscription price.
Easy Installation & Upkeep:
The platform's simple installation procedure makes it simple to get your eCommerce website up and running. Because it features a built-in framework for managing updates and patches, OpenCart is also simple to maintain and update.
Secure eCommerce platform:
OpenCart is a good option for eCommerce websites because it was created with security in mind.
Numerous eCommerce features:
OpenCart has several eCommerce features that make it simple to build a professional eCommerce website, including different payment methods, an integrated shopping cart, product reviews & ratings, and more.
Cons of Using the OpenCart eCommerce Platform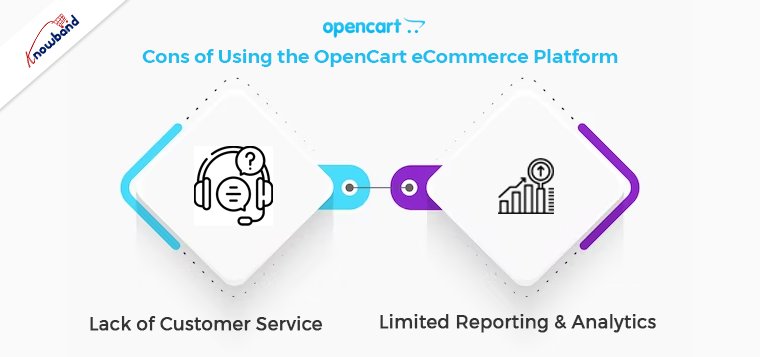 OpenCart's restricted scalability implies that it might not be appropriate for larger companies or eCommerce sites that demand more sophisticated features and capabilities.
Lack of Customer Service:
Despite the platform's availability of support forums where you can seek assistance from others, there is no dedicated customer care team, which can be problematic if you run into any technical difficulties.
Limited Reporting & Analytics:
Because OpenCart has an integrated reporting or analytics capability, it can be challenging to evaluate the performance of your eCommerce site without the aid of outside resources.
You can choose OpenCart as your eCommerce solution by analyzing the benefits and drawbacks. OpenCart is a great option for small websites thanks to its extensive set of features and tools, but it may fall short in several areas when compared to other eCommerce systems. OpenCart has the potential to be an excellent eCommerce platform for your company with the right investigation and analysis.
Conclusion
OpenCart is a fantastic eCommerce platform that gives businesses a tonne of features and tools to help them build expert eCommerce websites. It is ideal for startups and small enterprises because it is simple to use and affordable. Additionally, OpenCart offers safe eCommerce solutions that guarantee the security of consumer information. To decide if OpenCart is the ideal eCommerce solution for your purposes, make sure you are informed of its benefits and drawbacks before making an investment.