Customers can find a selection of products from a variety of retailers on an e-commerce website called a multi-vendor marketplace. For entrepreneurs looking to sell their goods online, there are two main options, either through a standalone online store or a marketplace with multiple vendors.
A single-solution-presenting eCommerce resource is more difficult to manage and market. In most cases, there is either a small selection of products or none at all. With a multi-vendor marketplace at your disposal, you are not fully working alone. Due to their high levels of traffic, ability to sell a wide variety of goods in one location, ability to process payments more quickly, and overall seamless shopping experience, online marketplace solutions have a lot of promise that many company owners are beginning to recognize.
Every retail company can benefit from both variations, yet they are different. Simply determine for yourself which kind of internet marketplace best meets your demands.
In the following sections, we'll go over the various selling platforms and explore which ones work best for achieving your company's goals.
Market with Just One Vendor
A website that only has one seller offering the goods or one product is known as a single vendor marketplace. There are no third-party problems because only the seller and the customer are involved in such a platform's processes. This is commonly referred to as a Stand Alone Website.
In comparison to a multi-vendor marketplace solution, there is relatively little traffic and the resource requires major promotional efforts because a single-vendor marketplace cannot provide a broad choice of commodities and products.
Benefits of a Single-Vendor Market
Because there are fewer persons engaged in the selling-buying process when using a single supplier, everything moves more quickly and many business operations require a more effortless approach. You may negotiate a fair price for your items and increase their appeal by working with just one supplier. There are certain drawbacks, though.
Multi-Vendor Marketplace
An online store that sells goods from one of the many sellers on the website is known as a multi-vendor marketplace.
Customers may locate everything they require in one location, which increases sales for multi-seller marketplace owners. Comparatively speaking, a platform like this will see more traffic than a single-vendor marketplace.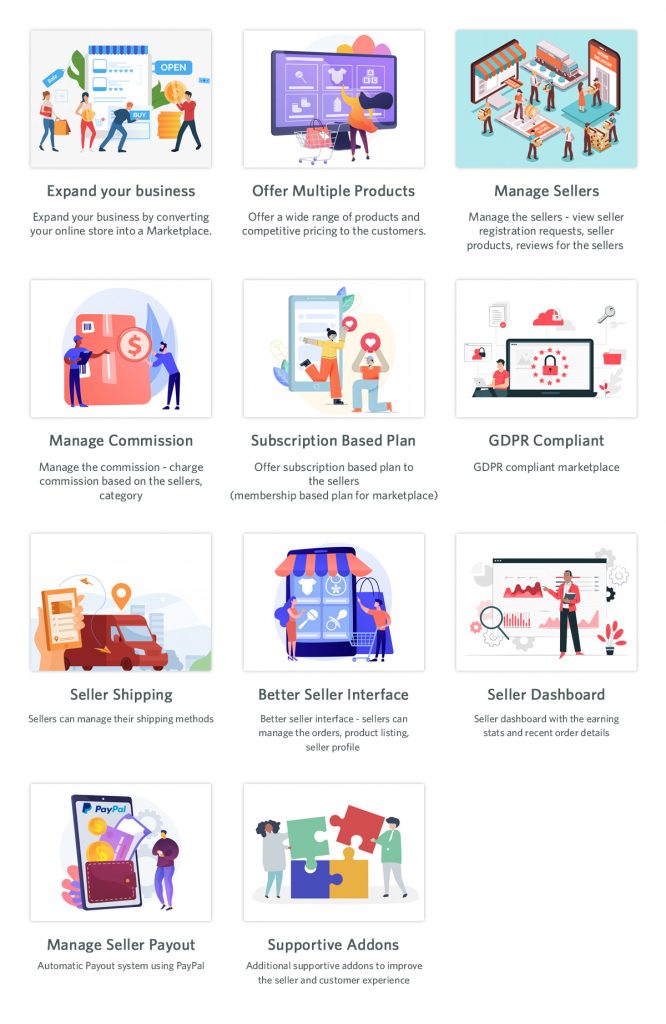 Essentially, three parties are involved in a multi-seller marketplace:
It is preferable for vendors or sellers to sign up as administrators so they can independently manage their products. And compared to a single-vendor alternative, making a profit is easier to achieve.
Multi-vendor Marketplace Benefits
When you run a small to medium firm, it is typically preferable to try a multi-vendor marketplace rather than a single-vendor one. You will have a number of suppliers, which will enable you to increase the range of the things you offer. Additionally, you will always find willing merchants to work with if one of your suppliers experiences a setback. It is a significant advantage since, when your organization is experiencing some sort of downtime, rivals are quick to take your share of the market and client base. In this instance, more visitors will visit your resource due to the variety of products.
Management of Reputation in Single- and Multi-Seller Marketplaces
Each platform must, in some way, have ratings and a solid reputation. Customers can often submit reviews and feedback for each seller and each product on marketplaces. Every seller is therefore concerned with their product's quality and customer feedback. The more reviews a seller or multi-vendor marketplace receives, the more well-known it becomes. Because people notice your great marketplace rating and have more faith in you, it attracts more new clients.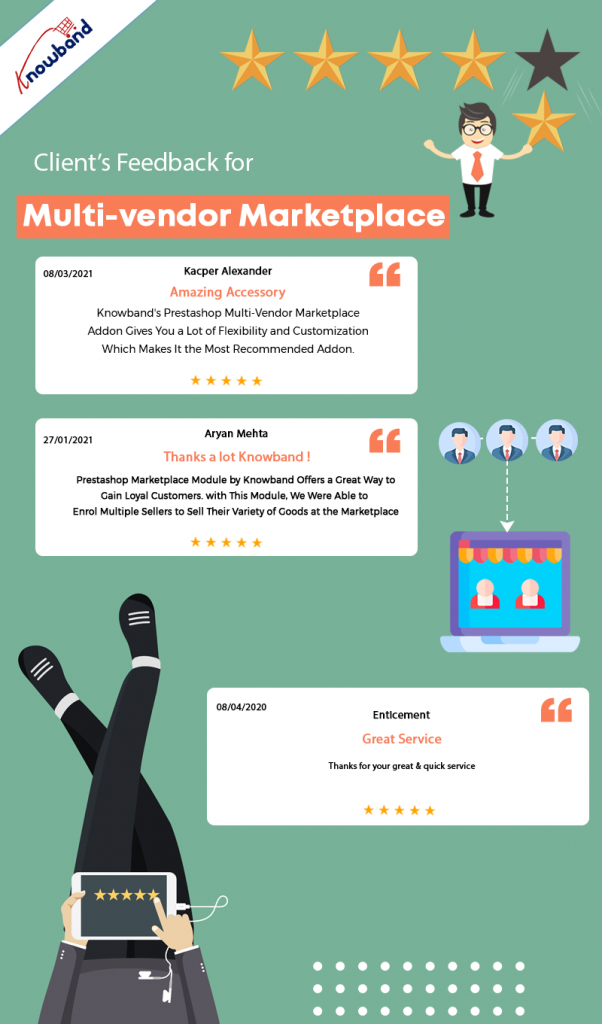 Marketplace Creation Management for Single and Multi-Vendor
Knowing everything about the market is crucial for anyone looking to launch an internet business. You must create a website, purchase a domain, and handle SEO and marketing, among other things, for an internet business.
If you want to make things simpler for the supplier and the seller, it is preferable to launch a multi-vendor website. To make their products look attractive, they will have templates that are ready for use. More money for you if they have to work less.
Single Vs Multi-Vendor Ecommerce Marketplace Process Management
Each vendor on your e-commerce platform receives access to a separate admin panel where they can manage inventory and track an order's processing from payment to invoice. For a vendor, the entire process is automated. The unified system will allow multi-seller marketplace sellers to follow a sale as well. Due to the interface's emphasis on control over action, vendors are not required to take any further steps. The system already contains every record.
Conclusion:
Any kind of market is ideal for a unique e-commerce venture. Each contains slight imperfections that can be quickly fixed with a professional's assistance. Knowband's development team is there to assist you with your multi-seller marketplace. Depending on your level of company expertise, your budget, your available time, and other factors, they may even provide suggestions on which style is best for you. Simply stepping up in this game is all that is required of you. So reach out to [email protected]