You may be wondering why you should use this OpenCart Mobile App on your eCommerce website. Is the OpenCart Mobile App capable of assisting your company's growth? What are the app's main features? We will do our best to address all of your concerns about mobile apps.
We strive to provide businesses with the most effective eCommerce plugin solutions. It also keeps itself up to date with the most recent market trends. It's an excellent platform for mobile apps.
This OpenCart Mobile App is built with cutting-edge technology to provide users with a seamless user experience. It also assists in the conversion of an eCommerce site into a mobile-friendly application. It is also made with a technology called "no-code," which makes it work perfectly on all platforms. Both Android apps and iOS apps can be extremely helpful in bringing your ideas to life. It aids in improving the user experience and increasing sales for Android and iOS apps. There are several options in OpenCart Mobile App Creator. This can boost your sales, revenue, and engagement traffic, and lower your cart abandonment rate.
OpenCart Mobile App Maker
The Mobile App for OpenCart is built with cutting-edge technology. It can also turn an eCommerce website into a mobile-friendly application. There is no requirement for code language. Furthermore, it is based on no-code technology, allowing it to run smoothly and smoothly on any platform. Android apps, like iOS apps, can be extremely helpful in making your dreams a reality. 
It aids in increasing user engagement and revenue generation for Android and iOS apps. The OpenCart Mobile App Creator is made up of a variety of options. This will help you increase your eCommerce revenue by increasing user engagement, engagement, and traffic while decreasing the number of times customers leave the carts they have purchased from.
OpenCart Mobile App Builder's Key Features
Knowband also provides a slew of other useful features. These are extremely beneficial to the growth of your business. and boost the revenue and sales of the eCommerce store
OpenCart Android App Builder – White Label Solution
OpenCart Android App Builder enables businesses to launch their app under their own brand name. The admin panel allows you to change the logo, brand title, icons, background color, splash screen, and more. These assists store administrators in marketing the store's brand to customers. and focus their attention on the brand
Multiple Payment and Shipping options

OpenCart Mobile App Maker accepts all payment and shipping methods. Other shipping and payment methods can be added by store administrators to help with transactions. They are extremely beneficial to the performance of your company. Furthermore, you can directly increase revenue and sales for your eCommerce online store.
Featured Product Listings
The store administrator can include featured items such as new arrivals, best sellers, and more. on the shopping app's homepage display Furthermore, the mobile version of the OpenCart App may be able to incorporate this feature to attract more customers to the site.
Multi-device Compatibility
The OpenCart eCommerce Mobile App is compatible with all devices and runs smoothly on any device. The shopping application is tailored to the size of the screen on the user's phone. As a result, no matter what device the customer is using, you will be able to easily get them to the store.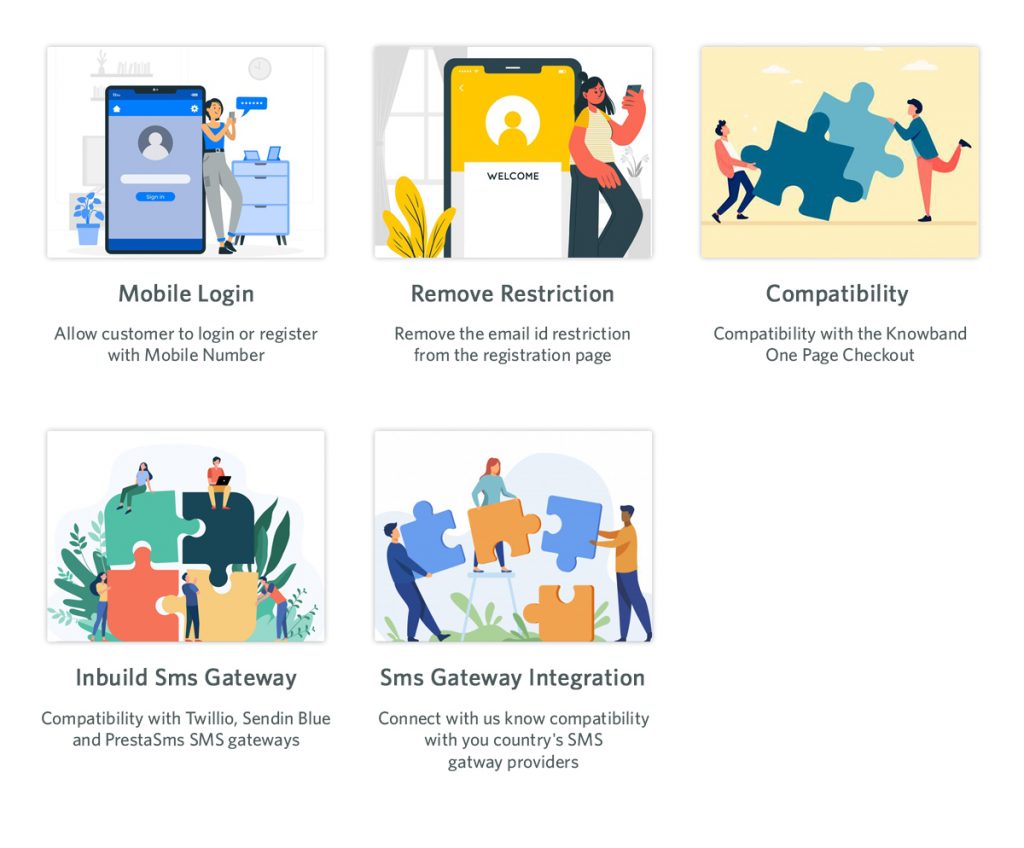 E-mail and Social Login
Customers can sign in to their Android and iOS apps with a single click using the OpenCart Mobile App Builder. Store administrators can add social login options such as Facebook and Google, as well as email registration and login. Customers' trust is enhanced by the inclusion of fingerprint or OTP authentication options.
Home Screen Designing Made Simple
Store administrators can easily customise the home screen in OpenCart iOS App Maker. Also, the administrator section of the eCommerce application lets you add banners, pictures, categories, and other things to the home screen to make it look better. The admin panel of the eCommerce app can also select user-friendly colors and fonts. Even after the app has been activated, changes can be changed.
Smooth Checkout

It is the OpenCart Android & iOS Mobile App Builder that allows users to easily fill out required information and check out for transactions. Customers only need to enter the necessary information. They can then focus on the items on the eCommerce mobile application.
Support for All Product Types
Knowband's Android app Builder for OpenCart is compatible with all product types. Store administrators can add any type of product, such as one-off, group, bundled, and so on.
Real-time Synchronization
It is also possible to use the OpenCart iOS App Maker to manage stock and inventory within the mobile application. Furthermore, the product inventory is linked in real-time to an eCommerce platform. Any changes or modifications made by an eCommerce store manager will also be reflected in the Shopping app.
Unlimited Push Notifications
The OpenCart eCommerce App's mobile version will send a push notification to app users. It also includes periodic eCommerce Store updates, special offers, discounts, and other promotions. Because of this fast-moving communication channel, customers can quickly receive messages, deals, and other updates from businesses.
Multilingual and Currency Support

Store administrators can also use the OpenCart Mobile App Creator to add all of the languages used on the website to the Android and iOS apps. The mobile app supports all regional, local, and global languages. RTL and RTL are examples of this. The administrator panel allows you to add new languages.
Offline Mode
 The OpenCart Mobile App Builder also allows users to download the ready-to-go screen. Even if they are having internet issues. As a result, customers have enough time to find their preferred product. They also don't have to worry about online tissue. Giving customers the freedom to shop whenever and wherever they want is a great opportunity.
Support for Coupons and Vouchers
Maker of OpenCart Mobile Apps Coupon codes and discount coupons are supported by OpenCart Mobile App Maker. At times, in order to provide shoppers with shopping benefits. This strategy is intended to attract more customers. Additionally, offer customers discounts and offers at the right times to entice them to make larger purchases.
OpenCart Mobile App Creator now supports Zopim and WhatsApp Chat. For any questions or concerns, customers can also get in touch with store managers around the clock. This is extremely beneficial in increasing the customer's confidence. Due to their satisfaction with the service, customers are more likely to trust your brand.
Conclusion  
Knowband is a well-known developer of eCommerce apps and plugins. Our company's goal is to provide the most effective eCommerce plug-in solutions. It is also up to date on the latest market trends. Its objective is to increase app usage and user engagement on both Android and iOS devices. This app has numerous additional benefits. mobile application for openCart These will give you a competitive advantage and career opportunities.
In this version of the OpenCart Mobile App Creator, there are numerous features are included. It can help you bring in more money, users engagement, traffic, and sales revenue while also lowering cart abandonment. Your eCommerce website can be converted into Android and iOS applications with the help of knowledgeable Knowband developers. If you have any questions about the openCart mobile app installation and functionality, please contact us by email at [email protected]