PWA stands for Progressive Web App which offers an installable, app-like experience on desktop as well as on mobile. In addition, they delivered directly through the internet. The OpenCart Progressive Web App is a web application that doesn't depend on third-party app stores (Google Play and Apple App Store). The extension of the eCommerce Progressive Web App has a motive. It is to provide simplicity to online store merchants so that their e-commerce platform can transform into a Progressive Web Application. The online merchants can "Add PWA App To Home Screen" and shop their products easily from the app just like any other application.
Working Procedure Of OpenCart Progressive Web App
The eCommerce store converts over to OpenCart PWA Mobile App, whenever any user opens the store URL in the mobile browser. Further, the customers can click on "Add PWA To Home Screen". Hence, it's that easy to install and use OpenCart Progressive Web App.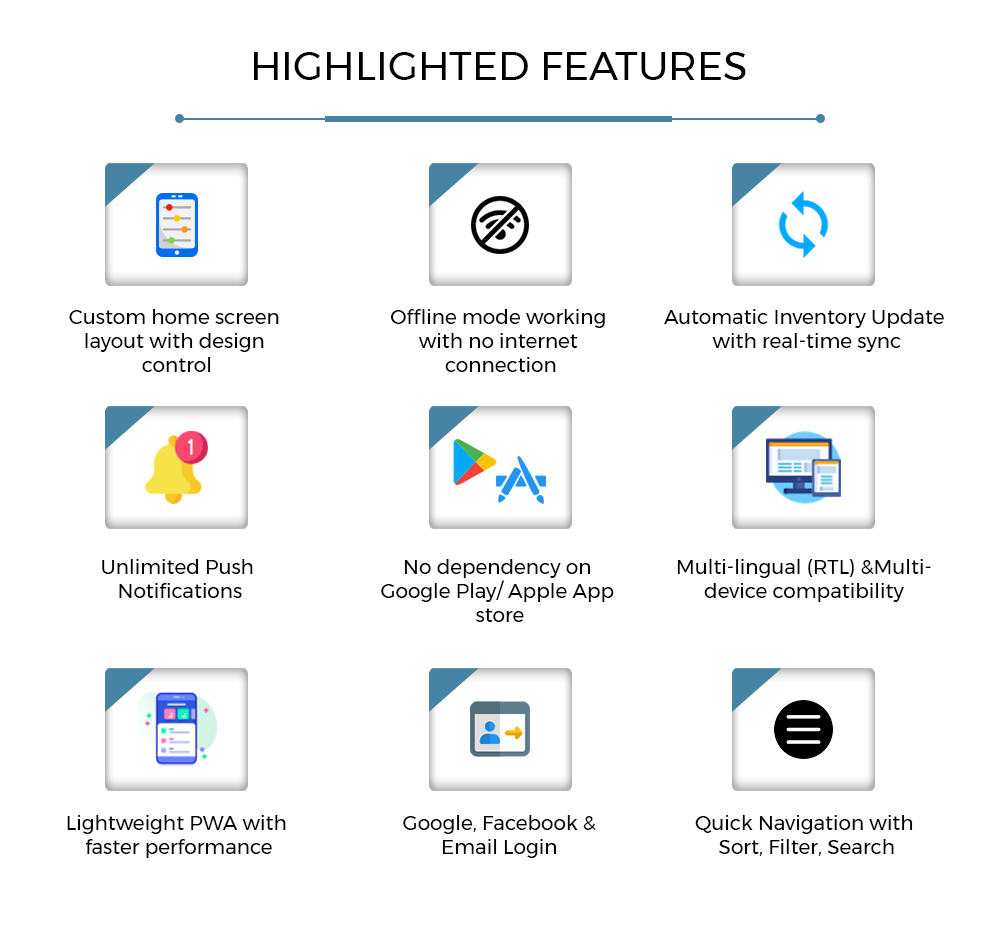 Features Offered By OpenCart Progressive Web Apps
OpenCart PWA Mobile App is simple to install and customize
OpenCart PWA Mobile App is simple to install and customize. The customers visiting the e-commerce stores on the mobile app can add OpenCart PWA App on the home screen of their gadgets. Clients get the entire control of the app from the backend panel of the extension and that too over a couple of clicks. Managing OpenCart eCommerce PWA App is quite easy because it does not require any coding knowledge.
PWA for OpenCart Offers Flexible Home Screen Interface
The OpenCart PWA App module permits the store owner to offer an attractive look and feel to the home screen of their web application. This extension comes up with a flexible home screen interface therefore store admin can design and save them from the admin panel. The saved formats can be any festival season, occasion, etc.
Compatible With Different Devices
Such OpenCart Progressive Web Application works fantastically on handheld gadgets such as smartphones, tablets, and so on. There is no compelling reason to trouble for gadgets being used while items being purchased.
OpenCart eCommerce PWA App Loads Faster
The OpenCart PWA App loads faster. It pre-loads the content of the current page while clients are busy browsing. Hence, the applications offer them an extensive mobile shopping experience.
OpenCart Progressive Web App Works In Offline Mode
Even when there is no or slow internet connection, this extension works quite well. Every time they wish to browse for products or shortlist them, users don't have to wait for strong internet connectivity for further procedures.
Push Notifications
Push Notifications are a beneficial impetus for the eCommerce mobile apps, whenever used carefully. The OpenCart PWA Mobile App likewise permits you to send custom push notifications to clients using the application directly on their gadgets. The store admin can even schedule all the notifications mentioned below from the admin panel:
Successful Order Creation
Order Status Update
Abandoned Cart
Provides Live Synchronization
Your OpenCart website and PWA app will be in finished synchronization with one another. All updates/changes made by the store admin on the site inventory will reflect instantly on the app as well.
Allows Tracking The Order
In the OpenCart Progressive Web Application, the order status updates in real-time. This extension allows app clients to keep an eye on their active order delivery and the best part is the order data stays in sync with the eCommerce store.
Conclusion
The OpenCart PWA Mobile App is highly compatible with Multivendor Marketplace. From seller's profiles to reviews and ratings, each and everything will mention on the same OpenCart Mobile App. The only condition is that the store must have both PWA Mobile App and Marketplace extension. The updated version of this extension is compatible with Knowband Multi-vendor Marketplace.